Resources for Land Owners, Legal and Real Estate Professionals
Law Regulating the Practice of Land Surveying
Each State regulates the practice of land surveyors in their state. For a link to the state, see this NCEES link. NCEES is the nonprofit testing organization for land surveying licensure. They also will keep your professional experience and referrals to help in licensure in multiple states.
Organizations of Importance to Land Surveyors
National Society of Professional Surveyors (News) – National professional organization for land surveyors. Each state also has a similar society.
Land Surveyors United – an organization & forum for land surveyors from around the World who come together to help each other with all types of issues.
The Public Land Survey System
A really good treatment of this subject can be found on the NationalMap.gov site. The map below shows the states that were surveyed using the Public Land Survey System.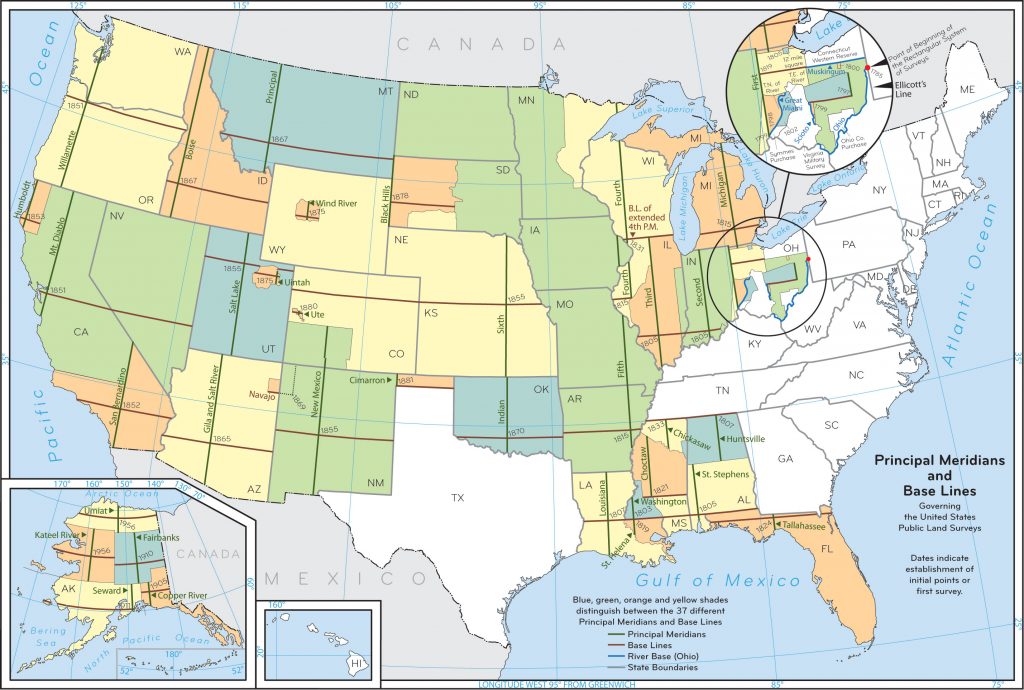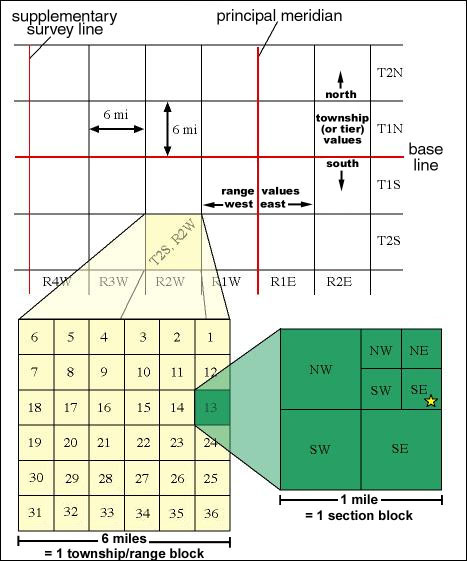 The layout used for the PLSS was using 6 mile blocks. These 6 mile blocks of land are called townships. A township is then broken down into 36 one-mile blocks of land. These are called sections. A section of land contains 640 acres nominally. A section of land may also be broken down into Quarters (160 acres,) or even Quarter-Quarters (40 acres.)
Townships are specified by calling for the Township number north or south of a Baseline and then the Range east or west of a Principal Meridian. The example in the sketch is 2 townships south of the baseline shown and 2 ranges west. So, the designation is T-2-S, R-2-W.
If you're located in Alabama you might want to download this 11×17 image to print out for using the PLSS in Alabama.
If you use Google Earth, you can download the Bureau of Land Management's PLSS KML file to import into your map from this page which also explains its use.
Qualification Based Selection (QBS)
While this discussion is from my experience in Alabama, QBS is an issue in just about every state. If it isn't now, it will be in the future. In Alabama's Administrative Code, the law states: (emphasis added)
(f) The engineer or land surveyor, shall not participate in or implement procurement practices (bid submittals) which do not first determine the qualifications of the engineer or land surveyor prior to entering into fee negotiations for services being sought. An engineer or land surveyor having submitted a statement of qualification and performance data, and having first been judged as the qualified individual or firm to provide the services required for the proposed project, may proceed to negotiate a contract with a client and establish compensation or fees for the required services.

Should the engineer or land surveyor be unable to negotiate a satisfactory contract with the client for any reason, the engineer or land surveyor shall withdraw from further consideration for the engineering or land surveying services. Another engineer or land surveyor may then be selected for negotiations of a contract for the services on the stated project.

Examples include but are not limited to, simultaneous negotiations or solicitation of fee proposals by the client from two or more engineers or land surveyors constitutes "bidding" and participation by a licensee is prohibited.
and further:
(a) The engineer or land surveyor shall not:

14. Participate in procurement procedures for engineering or land surveying services either by providing the bids or in requesting bids from other professional engineers or land surveyors where bidding is the primary consideration.
As I hold both an Engineering license and a Land Surveying license from the Board of Licensure, this law regulates my consulting practice from two sides.
Participating in practices that will subject me to unusual scrutiny and/or investigation by the Board puts me in jeopardy of fines and possible revocation of my licenses.
While our Professional Societies are debating with the Board at this time about excluding a certain dollar amount from the QBS stipulation (as it is in the Federal Law) the current law does not allow me to provide a "Bid" for a project when one has been requested from another professional.
Therefore, my submittal of a price to you SHALL be with these facts in mind. And my understanding is that you are satisfied with my qualifications to perform the work you requested. Further, you have chosen to enter into a discussion of fees with me, excluding discussions with any other professional simultaneously. If you decide that my fee estimate is unsatisfactory, you are encouraged THEN to speak to others.
Additional Materials from the Board of Licensure sent to Engineers & Land Surveyors:
Other Resources:
"Know Your Boundaries" Handout for Forestry Landowners
The following is the Fast-Good-Cheap Triangle for Explaining Professional Services. As Engineers and Land Surveyors we are not allowed to do "INFERIOR" work so you HAVE to choose Good and one more.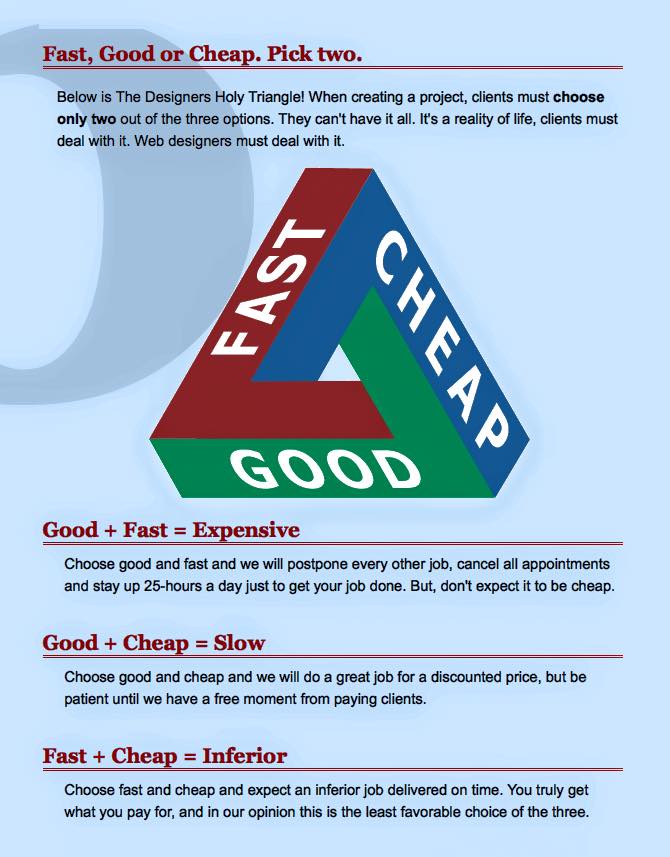 IF you have further questions or need help with either Engineering or Land Surveying specifically in your area, call Keith at (800) 798-9540 or fill out the contact info on the right of this page.